As you know I've been working as a freelance web designer 1 - 2 days a week for the past few months and our house is so tiny that the only place I could fit a "home office" was in the corner of the bedroom. Still it's a nice spot, it gets the breeze and I have a window view, even if it's only of the occasional car driving down the street or someone out walking their dog :)

I don't enjoy working from home though so I'll be looking to sub-lease some office space at some point. I've just been working for so long with people around me that it feels weird and awful working alone and I'm actually more distracted by the lack of company and noise than I am with it 0_0





The Wolfie-puss being cute. I found our old sheepskin rug packed away in the garage recently and brought it out for her; she adores it and sleeps on it nearly all day and night.





And I've been making some crafty things lately. I still had my headpiece from my wedding day, and I didn't want to just get rid of it but certainly was never going to wear it again, so instead I pulled it apart. Armed with some blank shoe clip findings and a hot glue gun I used the pearls and moulded flowers to make the two white combs below, and two sets of cute shoe clips to brighten up my terribly comfy, but dull, Kumfs that I wear to work every day :)

I still want to go to Spotlight to buy some flowers and other decorations to make more shoeclips. They also look very pretty attached to a headband, or used like a brooch on a shirt or to keep a scarf together.


6 comments | post a comment


---
Recently Ror and I flew down to Tasmania for a weekend getaway. It was so beautiful, everywhere I looked was a postcard. We toured as much of the countryside as we could fit into 2 days. Here are some photos from our trip :)


13 comments | post a comment


---




Ror showed me this guy, he is absolutely incredible. In the style of a true master he makes something insanely difficult look so easy.

It's such a pretty song too :)

2 comments | post a comment


---
I took some more photos of our vegie garden this morning :) With all the wonderful rain and sunshine we've been getting lately everything is growing like mad!

v
One month ago
v
v
Today
v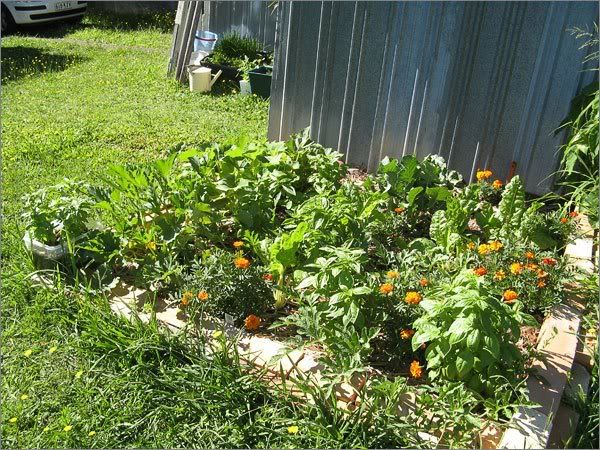 v
Baby silverbeet & some of the marigolds which are doing a good job of attracting ladybugs and other garden-friendly bugs
v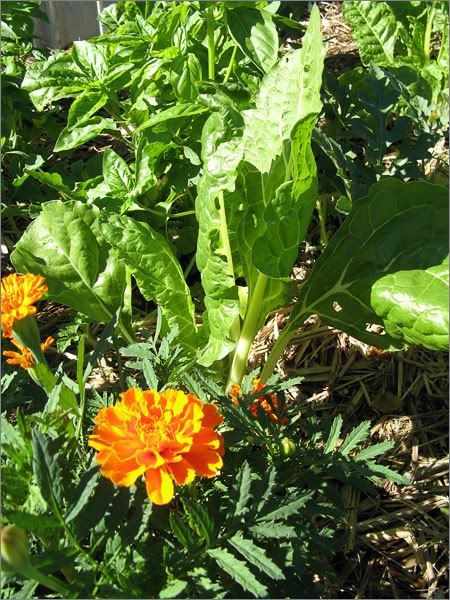 v
The giant leafy thing you see taking over everything is the baby watermelon. It's the Day of the Triffids!!
v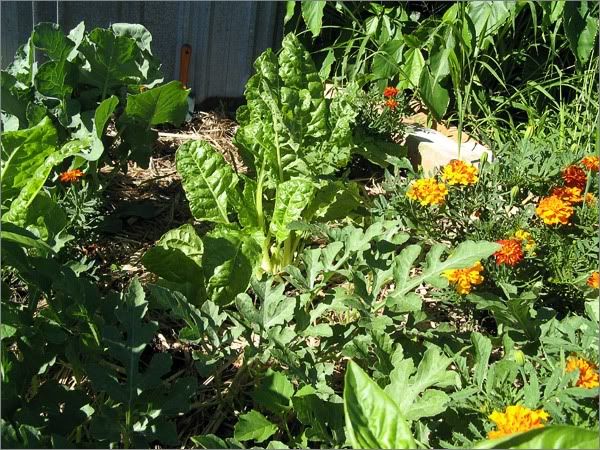 v
And a quick snap of me as I was out taking these - thought I should show my face from time to time ;)
v


If you have time post and tell me how your green things are growing :) 11 comments | post a comment


---
How strange and cool is this! Ror (photographer) and I were driving home tonight when we saw this bizarre combination of half-moon and two stars making a big grin in the sky :)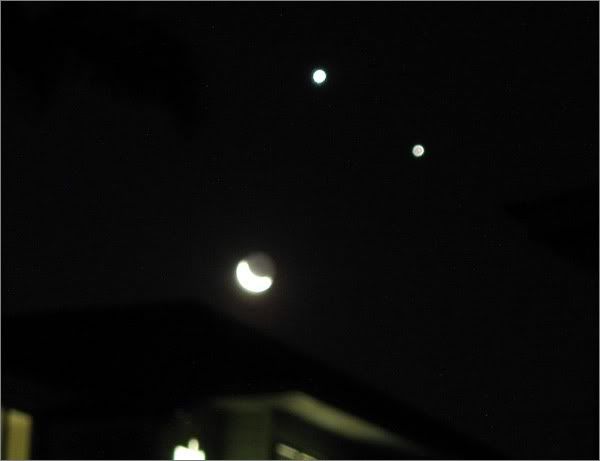 13 comments | post a comment


---
If you want to protest against the incredibly stupid Australian Internet censorship plan you now can!

http://www.getup.org.au/campaign/SaveTheNet/442
post a comment
---
I went for my final filling at the dentists today, it was the worst one yet - big and very sensitive and I had to get 3 local injections to get through it. I'm just glad it's all over now. Hopefully with regular checkups I won't have to go through that kind of thing again!

Afterwards I consoled myself with some retail therapy ;) Not the evil sort though, only the semi-evil sort - Op Shopping!! I love Op Shopping and I'm always amazed at some of the great quality finds. I always think it's funny that some of the things I get the most compliments on are either from a second hand store, or Target. I'll wear a pretty Target shirt with designer pants and some classic jewellery to dress everything up and it's always the shirt that gets noticed haha.

Another of my best work shirts was a designer label I found at an Op Shop, and a few weeks ago I picked up a very cute and classic grey military-style jacket which will go with everything, is exactly my size, in pretty much perfect condition, and it cost me $4! I think the trick is to try on heaps of items, and ignore sizing labels. Today for example I tried on at least 20 things and bought two I really liked - a versatile black cotton dress-shirt, and a comfy pair of cotton capri's for summer - $15 total.

Then I went shopping to pick up some treats for my Rori who's been having a rough time of it lately, as well as a lamb roast which I'll cook for him for tea tonight as it's one of his favourite's.

We've been getting lots of lovely rain here lately which our garden is loving! The strawberries and carrots don't seem to be doing so well - not surprising since they're really more cold-weather vegetables - but everything else is very happy indeed. Take a look at the progress all those little seedlings have made in less than 2 weeks :) Laura I sprinkled finely crushed egg shells around the plants like you suggested and collect more shells whenever we use eggs.


4 comments | post a comment


---
Well after many hours this week, + some sunburn thrown in for free, our new vege patch is finally planted.

I'm trying a new tactic with my basil this time - I've planted heaps of it (18 plants)... some for the slugs and catapillars, and some for us ;) Hopefully it will also keep the little blighters away from the vegies; I don't mind giving them a free dinner if it means our dinner stays in one piece!

Now it's the fun bit of waiting, watering, and seeing what happens. I suspect some of these plants will simply not be able to cope with the Brisbane summer that's just around the corner, particularly since it promises to be a very hot one this year, but we'll see how they go.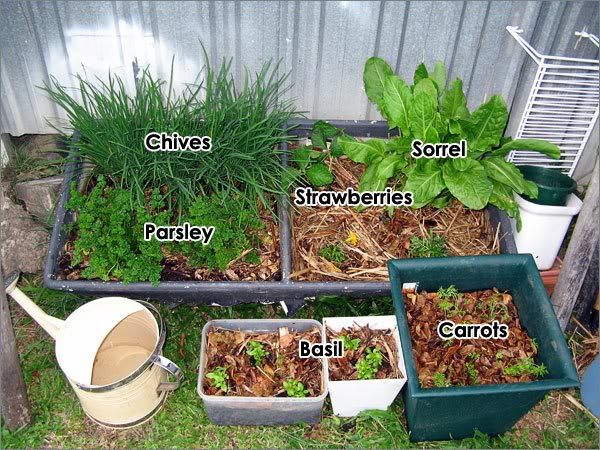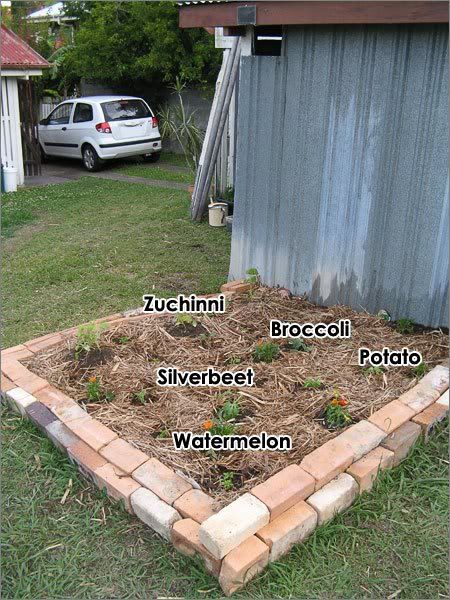 Zac the dog belongs to the family across the road but they are out all day so he's been escaping and coming over to see me. He's a lovely dog and I certainly enjoy the company :)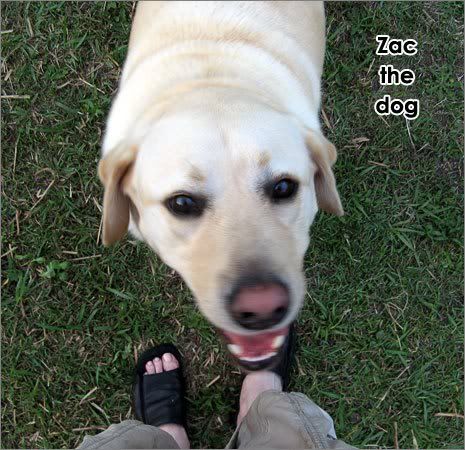 11 comments | post a comment


---
| | |
| --- | --- |
| Date: | 2008-11-12 23:18 |
| Subject: | Done |
| Security: | Public |
My horrible 2 days of drilling, filling and extraction are over, thank goodness! It cost over $800, although our health insurance covered about $340 of that. Let this be a lesson to you boys and girls, see your dentist regularly because even if your teeth look and feel fine it could be a different story under the surface 0_0

I was very impressed with the dentist throughout the whole thing, he was very kind and patient and let me take as many breaks as I needed and kept me updated during the entire process. Today was better than yesterday, I think because I knew what to expect, and because I asked for more druuuugs ;) They took ages to wear off, and I've been doing fine since except for a whopping great headache.

I only had an hour to garden this morning but I got the zuchinni's in, and the nasturtiums and basil planted around them. I put a handful of potting mix in with all the roots to help them get started, then gave everything a good water and mulched. Tomorrow I will try to get the brocolli and silverbeet settled in.




And here are some recent silly / cute photos from the Steel household :)



Doesn't my Rori look great - he's lost over 20 kg in the last 4 -5 months!
Grrr...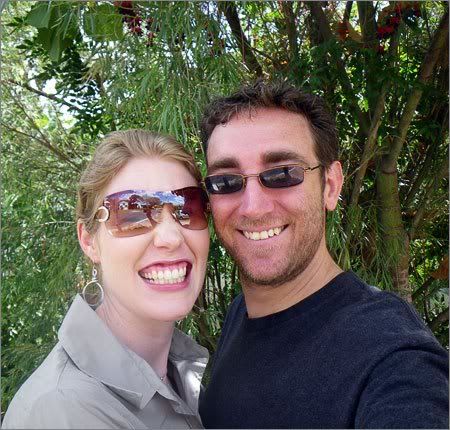 Oh my goodness it's a tough life isn't it!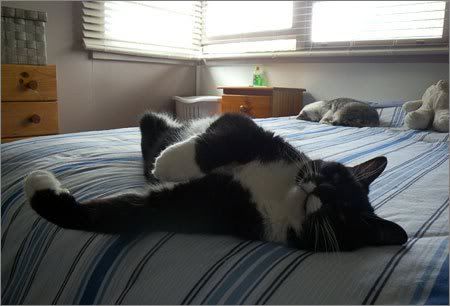 11 comments | post a comment


---
| | |
| --- | --- |
| Date: | 2008-11-11 19:07 |
| Subject: | Ugh |
| Security: | Public |
My dentist appointment was both better, and worse, than I expected. It was certainly not even slightly pleasant. 3 cavaties filled, including one very touchy wisdom tooth. I really don't want to go again tomorrow but I must :(

To console myself I bought chicken and chips for dinner, a lamington, and a stack of edible and companion plants from Bunnings. I've just finished drawing up my planting guide and I will start planting out tomorrow morning to keep my mind off things until my lunchtime appointment.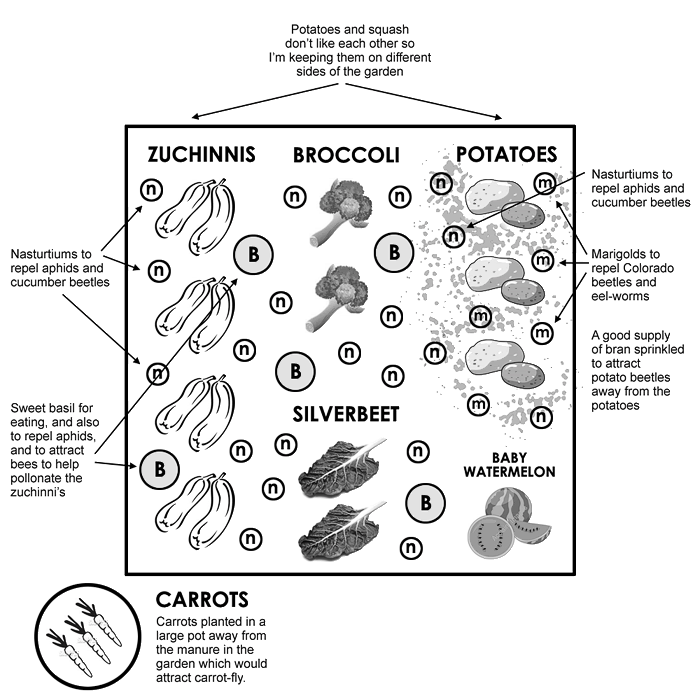 10 comments | post a comment


---
| | |
| --- | --- |
| Date: | 2008-11-11 08:47 |
| Subject: | :( |
| Security: | Public |
I have to go for dentists appointments today and tomorrow to have 6 fillings and 1 wisdom tooth extracted :(

Can't wait till it's over.

In the meantime I am going to go buy seedlings for our vegie patch!

4 comments | post a comment


---
I am supporting Movember again this year :) http://au.movember.com/whatismov/content/What-is-Movember/

"At the start of Movember guys register with a clean shaven face. The Movember participants, known as Mo Bros, have the remainder of the month to grow and groom their Mo, raising money along the way to benefit men's health - specifically prostate cancer and male depression.

Movember culminates at the end of the month at official Gala Partés, Mo-Office and Mo-Town parties where Tom Selleck and Borat look-a-likes battle it out for their chance to be the Man of Movember."

Also our little garden bed has finally been dug in (thanks Rori!!) and I've finished conditioning the soil with home-made compost, horse POOP, and slow-release fertaliser. The vegies go in this weekend ready for the summer growing season.


2 comments | post a comment


---
| | |
| --- | --- |
| Date: | 2008-10-22 09:46 |
| Subject: | Yamba |
| Security: | Public |
Ror and I spent a nice time holidaying in Yamba (about 3 hours south of Brisbane). We stayed there with his parents who were renting a holiday home for the week.

It had it's own jettie so we took our little boat with us and the boys spent practically every waking hour fishing while my mother-in-law Ruth and I went out shopping, had coffee, and lazed about the house reading and painting :)




While we were looking through one of the photo albums Ruth pointed out a photo she'd taken of my nephew Morgan playing in a rock pool. She said she'd always wanted to paint it, but she has only just started painting and drawing and didn't feel confident to try it. So I got out my watercolors and my last sheet of A3 Arches rough paper and spent a few happy hours painting this for her :)


8 comments | post a comment


---



Where has this year gone already?!?

A few big things have happened for me in the last few months...

I've finally started the blog I've been thinking about writing for over 12 months. It's called The Smart Life and is all about the ideas I've discovered or made up which make life easier. I only have a few posts there so far but aim to add about one new post a fortnight (going for quality not quantity):


I'm now working 4 days a week which is heavenly. It's been a goal of mine for years and I now have every Wednesday off to relax and help me get through the week.

Ror and I bought a little boat! Ain't she cute :) We have gone fishing a few times already (although I am a total fishing beginner and have only caught 2 tiny fish so far).




I've been learning to garden. This is my "herb hospital" where I've been nursing some herbs back to health. Ror and I are also working on putting in a little vegetable garden, and I have potato and (I think) pumpkin plants sprouting out all over the place from our composted kitchen scraps!




The cats are also well. Wolfie of course is camera-shy as always, but Madame Kitten is - as you can see - quite content ;) Tough life eh!


8 comments | post a comment


---
Hello :) **waves** I have been doing some speed-painting lately and here is a little Draenei I just finished.


19 comments | post a comment


---



http://www.storyofstuff.com/index.html

3 comments | post a comment


---
| | |
| --- | --- |
| Date: | 2008-06-25 22:59 |
| Subject: | Ginger tea |
| Security: | Public |
I've just had a cup of my ginger tea to settle an upset stomach. It always works so well I wanted to share the recipe with you :)

I make it whenever I'm feeling queasy and it works really fast, usually within 5 or 10 minutes. It's cheap, natural, and effective.

1. Put a few shakes of dry ginger into a mug
2. Fill to half-way with boiling water
3. Fill the rest with tap or filtered water
4. Stir in a teaspoon of honey
5. Done! Drink up and your upset stomach will thank you :)

4 comments | post a comment


---




Hehehe now I've seen everything!

1 comment | post a comment


---



I'm usually pretty good with setting and reaching my most important goals, but there's always a good % of my goals that fall by the wayside and this post helps me understand why.

In a nutshell it has to do with setting goals that match up with your values, and 'tricking' your subconscious into making sure you reach them. Very useful and interesting stuff!

1 comment | post a comment


---
I've been looking for a way to organise my jewellery and scarves that didn't cost the earth, so recently I made these from stuff I had lying around the house :)

Jewellery organiser - made from an old picture frame, hand-twisted picture wire, and various hooks.




Scarf holder - made from a wooden coathanger with shower-curtain rings attached by superglue and white electrical tape.


8 comments | post a comment


---